Watford captain Troy Deeney has warned his family he will be difficult to be around as he comes to terms with relegation from the Premier League.
The Hornets lost 3-2 at Arsenal on Sunday as their five-year stay in the top-flight came to an end.
They fell three goals behind as a Pierre-Emerick Aubameyang penalty and overhead kick sandwiched Kieran Tierney's first goal for the hosts.
Deeney pulled one back from the penalty spot and former Arsenal man Danny Welbeck struck to give them hope – but it was not to be and Watford will be plying their trade in the Sky Bet Championship next season.
READ MORE:
After a decade at the club, Deeney has admitted he is unsure where his future lies but the 31-year-old admits relegation has left him hurting.
"Of course it hurts," he told Watford's official website.
"Maybe I'm not going to show it but it's the missus and the kids who will see it over the next two weeks, so I apologise to them in advance.
"I'm not going to sit around and sulk, I will throw a few things, probably smash a few things, replace them and go again."
Deeney also confirmed he could have opted to sit out the last weeks of the campaign as he struggles with a knee injury, which will be operated on in the coming days.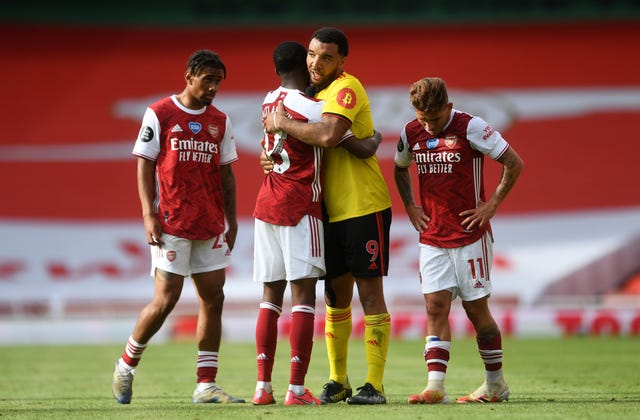 "The knee is not great," he added.
"I didn't ultimately want to throw it in.
"I could have easily done it four weeks ago when I found out I had another injury.
"I could have easily said: 'Let me get my knee done', sat around and thought 'this is not my fault, I have missed so much of the season' – but that is not my character.
"It is 10 years (Deeney has been at Watford) in probably about two weeks' time. I was here when we had three stands, 20 players and seven of them were youth-team products.
"So we have got to be realistic and understand where we are at."