The UK still waits for Donald Trump to make an official visit, almost a year after Theresa May invited him and the prospect appears even more distant after the cancellation of a planned trip to open the US embassy.
Just seven days after the US president's inauguration in January 2017 the Prime Minister flew to Washington to extend the invitation – officially on behalf of the Queen – for a state visit.
The prospect of Mr Trump enjoying a carriage ride with the monarch down The Mall was met with horror by the US leader's critics and, almost 12 months on, public hostility remains a possible reason that Air Force One has not yet brought the president to the UK.
Mr Trump's official explanation for cancelling his trip to London expected in February was because he was "not a big fan" of the new embassy's location and cost.
But allies acknowledged the prospect of mass demonstrations could have been a factor.
The controversial state visit invitation was extended as Mrs May became the first foreign leader to meet Mr Trump following his inauguration as she sought to build support for a post-Brexit trade deal with the US.
Only two occupants of the White House have been treated to a grand state visit during the Queen's reign, George W Bush in 2003 and Barack Obama in May 2011 – but both were well into their presidencies by the time the offer was made.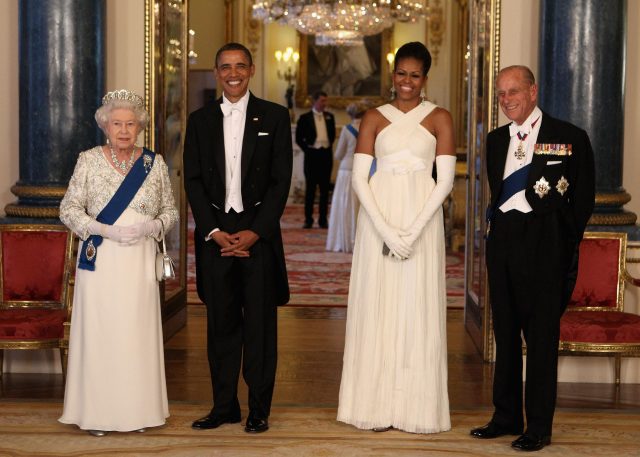 The scale of opposition to a visit by Mr Trump – especially with all the trappings of a state occasion – has been apparent from the moment the invitation was accepted.
Commons Speaker John Bercow made clear he was "strongly opposed" to Mr Trump addressing MPs and peers, highlighting "our opposition to racism and to sexism and our support for equality before the law and an independent judiciary".
The intervention meant there could be no repeat of Barack Obama's speech to parliamentarians in Westminster Hall.
A petition signed by more than 1.8 million people said that while Mr Trump should be allowed to come to the UK he should not be granted the honour of a full state visit "because it would cause embarrassment to Her Majesty the Queen".
There was no mention of the state visit in the Queen's Speech in June although ministers and officials insisted it was still on the cards.
It is possible Mr Trump could decide his first trip to the UK will lack the full pomp and ceremony of a state occasion, instead being a more modest working visit – as the scrapped embassy opening would have been.
Trips to Europe by Mr Trump have been accompanied by speculation the unconventional leader could choose to make an impromptu appearance at one of his Scottish golf resorts – potentially causing a diplomatic headache – but so far not even the lure of the links has been able to tempt the president to the UK.